Feb 2014: [Our PR Study] We carried out Survey on livelihood in Myanmar.
 The following is the survey overview.
 ・Target: People who live in Myanmar.
 ・Surveying Method: Onilne,recruited the participants through "Smaphone",SurveyMY community on Facebook, and collected the responses.
 ・Sample size: N=233
 ・Study Period: from 4th to 7th Feb 2014

Summary of Result
■The current state shows 32 points in all, by subtracting "bad" from "good".
45 for the future prospects, even more positive perception.
Lower points by respondents in their 40's and low-income groups.
Q. In comparison with a year ago, how do you feel your livelihood has changed?(SA)
Q. In comparison with the present, how do you think your livelihood will become a year later? (SA)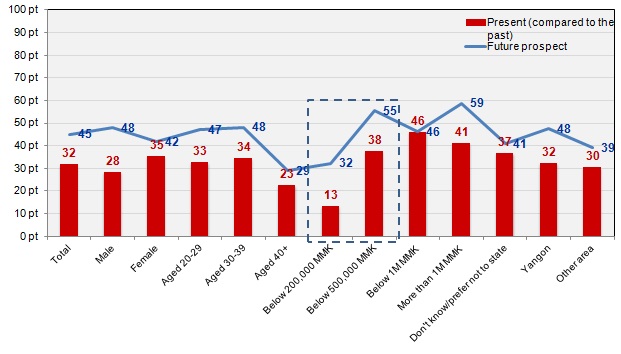 *Economic Perception Index = number of "positive answers - negative answers" for each question.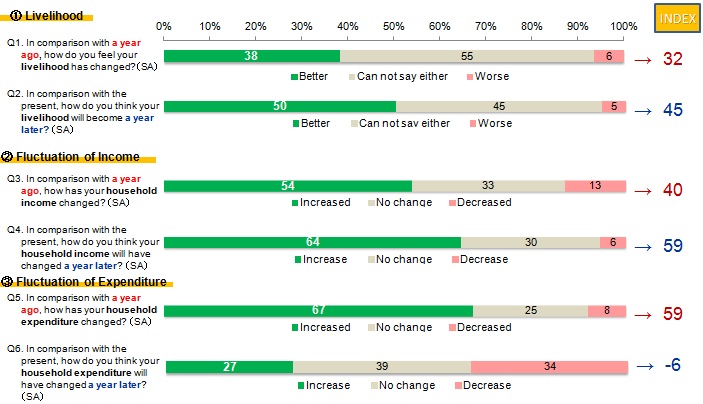 For further information about the study, please see the following PDF report.
   Survey on livelihood- - Myanmar -